Weak social auditing is failing workers but taking a more comprehensive approach can help improve working conditions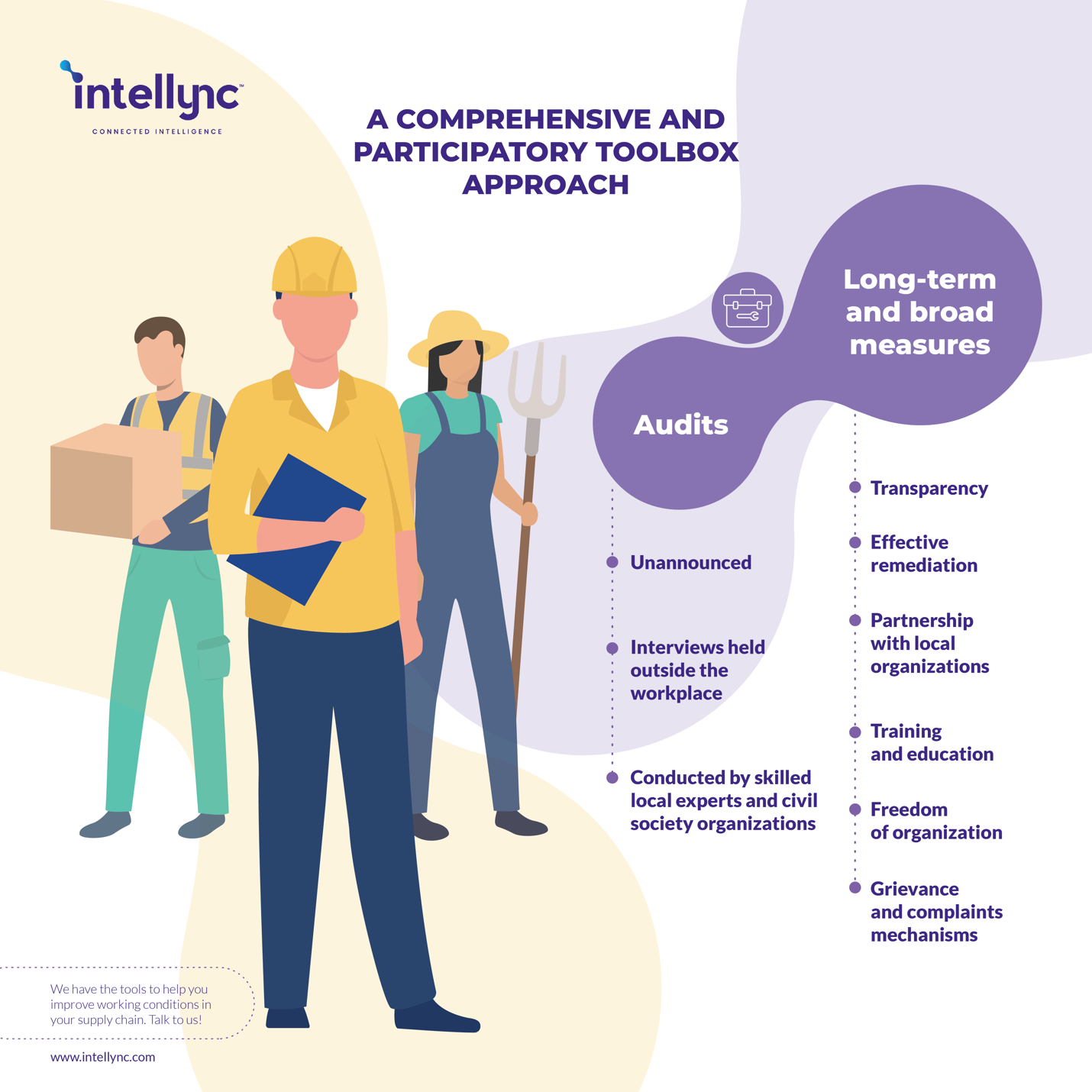 Weak social auditing is failing workers but taking a more comprehensive approach can help improve working conditions 
As the global economy rapidly grows and changes, companies are facing pressing needs to increase their productivity and efficiency. To make ends meet, welfare is sometimes compromised, and people are forced to work overtime for insufficient wages and insufficient provision of medical care and sick leave. Many factories are also often poorly illuminated and ventilated, with dirty amenities and inadequate equipment to work with. Discriminatory hiring practices, abusive attitudes towards workers, and sexual harassment are generally reported as well. Additionally, these highly damaging working conditions cannot be discussed amongst peers because freedom of association and collective bargaining is forbidden in many factories, leaving workers to silently endure their company's malpractices. 
Taking responsibility 
However, companies are expected to comply with several responsibilities towards their employees and clients. Increasingly, global production networks are demanding multinational corporations who produce their goods to ensure the minimum labour standards – whether that is for ethical purposes or to avoid bad publicity. To help protect workers and avoid damaging their public image, many companies have pledged to follow corporate social responsibility codes of conduct, but these are often not fully adopted. Thus, social audits were developed to ensure safe working conditions in production facilities. These factory audits are aimed at identifying workers' rights violations and to assess and evaluate the company's performance concerning social standards to then improve conditions at the workplace. 
Assessing the assessors 
Tens of thousands of social audits are commissioned every year by hundreds of brands. Nonetheless, audits itself do not produce change, and although they have become a burgeoning practice, they are often not followed by effective remediation. Even when they do, the improvements are usually superficial and limited to health and safety issues. 
Companies invest very little time and money in audits. Consequently, these are too short, too superficial, and too sloppy to identify certain code violations such as those regarding freedom of association, excessive and forced overtime, abuse, and discrimination. This way, the focus has shifted from workers to consumers: social auditing has become more of a tool to tell consumers that a company is meeting the goals for treating workers responsibly and increase their reputation, rather than actually improving workplace conditions. This flawed approach has the opposite effect to what social auditing has been created for, as it provides a false and incomplete picture of the workplace. 
Flawed auditing has many causes: auditors usually announce their visits in advance, giving managers time to prepare and convey false working conditions, either by falsifying wages, hours and contract records, or by coaching workers before they are interviewed; many audits are conducted by companies whose business model conflicts with the requirements for credible and independent social auditing; workers are badly informed about their rights and they are scared to speak up about problems, which leads to a marginalization of workers. All of the above, amongst others, is causing audits to fail in detecting important instances of non-compliance with labour standards. 
Using all the tools in the toolbox 
It is indisputable that the current social auditing system needs to be critically assessed so that the intended beneficiaries of the process, the workers, do benefit from it. First and foremost, auditing needs to be understood not as a test –as this leads to fraud– but as a highlighter of issues that can be improved and corrected. Moreover, the approach needs to be more comprehensive and participatory. Some useful tools for that are unannounced visits, interviewing the workers outside the workplace, and having skilled local experts and civil society organizations conducting the audits. Further, these tools should be combined with long-term and broader measures to address and remediate any violations, including partnering with local organizations, transparency in the process, effective remediation, and a pro-active approach to freedom of organization. The workers and their unions need to be at the centre of the process to hear their inputs and concerns, especially those gender-related. For that, training and education should be offered to workers on their rights and on how to effectively convey their concerns and complaints. Although there may be difficulties in implementing these measures, only social audits embedded in a comprehensive range of actions will be useful to improve working conditions and respect the workers' rights. 
At IntellyncTM we have the tools to help you improve working conditions in your supply chain. For that, we developed Protect, a real-time case management system that tracks, records, and actions audit non-conformances to action remediation. Talk to us!