Going carbon-neutral: How to build net-zero emissions supply chains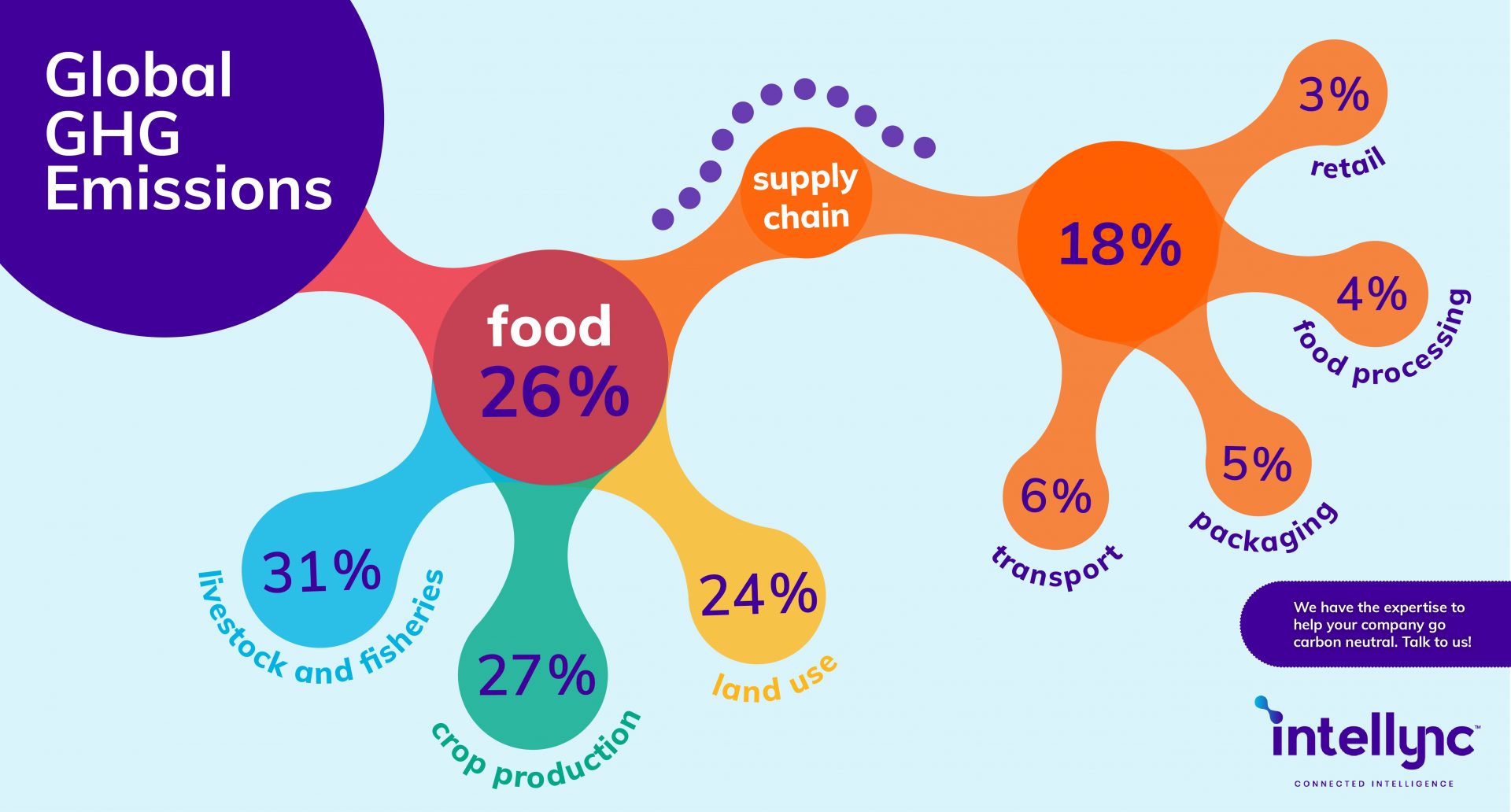 Ovais Sarmad, Deputy Executive Secretary of the United Nations Framework Convention on Climate Change, called 2020 "a critical year for addressing climate change". Countries are preparing or revising their national climate action plans and the clock is ticking for companies worldwide to carry on the transition into carbon neutrality. To do so, businesses must actively work to monitor their processes and sources and adopt measures that allow them to eliminate most carbon dioxide form their supply and value chains. 
 The evidence for the warming of the climate system is unequivocal, as highlighted by the International Panel on Climate Change (IPCC). Although these changes are affecting the entire world with devastating consequences, they impact production sectors differently. Agriculture, for instance is among the most exposed sectors but it is, at the same time, a major contributor to GHGs (greenhouse gases) emissions. A recent article showed that the food production sector (where agricultural practices are included) is responsible for more than a quarter of the total annual GHGs emissions, which corresponds to more than 10 gigatons of CO2 equivalent emitted per year. Livestock and fish production, crop production, and land use account for most of the emissions, but a significant 18% share is directly related to the supply chain (retail, packaging, transport, and food processing). Reducing carbon emissions is one of companies' greatest challenges in the coming decades, especially because most of their environmental footprint is not under their direct control. 
Mapping supply chains 
Before addressing their carbon footprint, companies must first examine their supply chains to correctly identify where emissions come from. Accountable for most of the generated waste, food supply chains are the perfect candidates to implement carbon-neutralising mitigating efforts. Most suppliers do not keep track or report carbon emissions data and most buyers do not control suppliers' emissions. As all parts of food supply chains must become efficient, monitoring is key to manage supply chain GHGs emissions effectively and avoid damage to brand value and lack of preparedness for complying with carbon regulations. 
To achieve carbon neutrality, companies must evaluate the CO2 output of the full extent of their supply chains, and this can be challenging for many organizations. Digitalisation and blockchain technology make data collection, analyses, and reporting easier and help companies define performance levels and detect where they are not hitting such levels. 
"By knowing the exact challenges posed to a (…) supply chain we can help our clients implement the necessary improvement plans (…)" 
Turning data into action 
The data collected through the supply chains enable the identification of critical control points, pinpoint areas that need further analyses, and help implement actions to make the supply chain more sustainable. Supply chain sustainability programmes help businesses measure every aspect of their supply chains to identify best practices and highlight areas to be developed and prioritise action. Specialized programmes also allow more accurate reporting of GHGs emissions, which is a pivotal step for companies that want to provide guarantees of sustainability to their partners, suppliers, retailers, and consumers. As Intellync's Commercial Director Simon Phelps explains: "Food supply chains must be monitored end to end, from field to retail with segments to cover farms, factories, storage, and logistics. Keeping track of all strategic points, throughout all supply chain levels asks for more than just collecting data. That is where sustainability programmes like Intellync Farmfootprints and IntellyncAdvance can make a dramatic difference". 
Sustainability has become part of business models and sustainability programmes help companies understand the suppliers' level of impact and better prepare to comply with regulations. As all organisations are different and have different needs, programmes must be adaptable to ensure long-term environmental, social, and economic value. As Simon Phelps highlights: "The only way to fit the needs of all businesses, from small and medium-sized to big enterprises, is to offer customizable and scalable programmes that bring together technology and consultancy expertise. Our software retrieves information and performs data mining allowing our experts to identify cost savings and help companies to better understand risk. By knowing the exact challenges posed to a certain business and supply chain we can help our clients implement the necessary improvement plans to avoid non-compliance and achieve the so-desired and much-needed carbon neutral supply chain". 
Sources
https://www.sdcexec.com/sustainability/article/21126470/quest-resource-management-group-3-critical-steps-to-becoming-carbon-neutral
https://ieep.eu/publications/net-zero-agriculture-in-2050-how-to-get-there
https://ourworldindata.org/food-ghg-emissions
https://www.ipcc.ch/site/assets/uploads/2019/08/4.-SPM_Approved_Microsite_FINAL.pdf
https://www.weforum.org/agenda/2020/05/covid-19-is-forcing-us-to-rethink-our-plastic-problem/